Cultural Critique
Cultural Critique
The General Education Outcome for Cultural Critique is students will be able to differentiate themselves, and others, as individuals whose worldview and capacities are shaped by history, culture and experience and to demonstrate a willingness to take the worldview and capacities of others into consideration. Twelve course-level outcomes are mapped to cultural critique in 18 courses and assessed on a two-year cycle. Courses associated with Themes of Liberal Education for Private and Public Life collect student work in the fall of even numbered years. Courses associated with Inquiry in the Sciences collect student work in the fall of odd numbered years. Figure 3 represents the aggregated percentage of course-level targets that were met and not met for the two-year cycles ending in 2015-2016 and 2017-2018.
Figure 3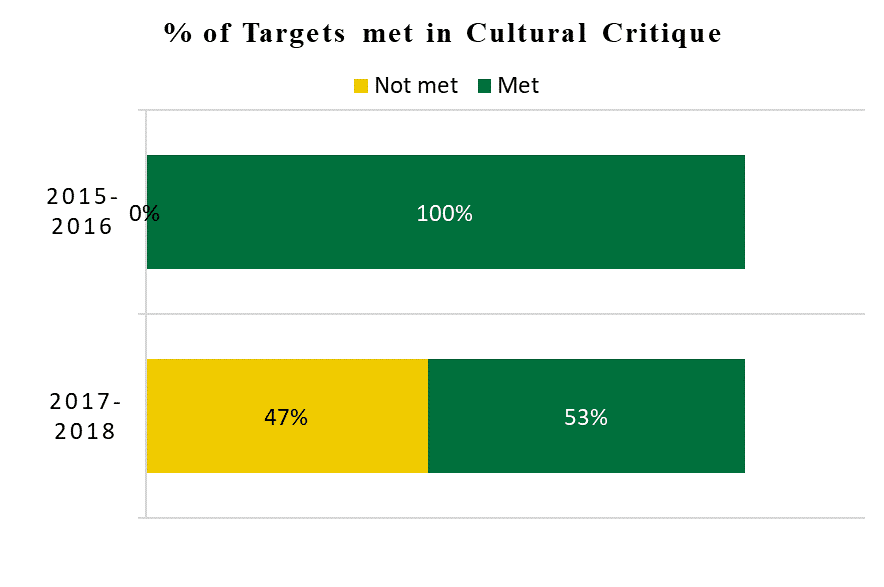 Interventions made in response to the cultural critique results
During the 2017-2018 two-year cycle, reports by Themes of Liberal Education for Private and Public Life (LBST) noted that the assessment process was highly problematic even in years where outcomes were met due to the methodology in place. Thus, a new methodology was developed that utilizes the University's learning management system to collect authentic course artifacts. In addition, faculty attend professional development on the use of a common rubric aligned with the student learning outcomes for the courses was developed for faculty to score the artifacts collected. The new methodology was implemented in the fall 2018 collection cycle.