About Us
Office Organization
The Office of Assessment and Accreditation (OAA) supports and advances the University of North Carolina at Charlotte's mission by providing leadership and resources for academic planning, student learning outcomes assessment, and institutional accreditation. OAA collaborates with faculty, staff, and administration to enhance the quality of academic programs and support units through the evaluation of effectiveness and continuous improvement.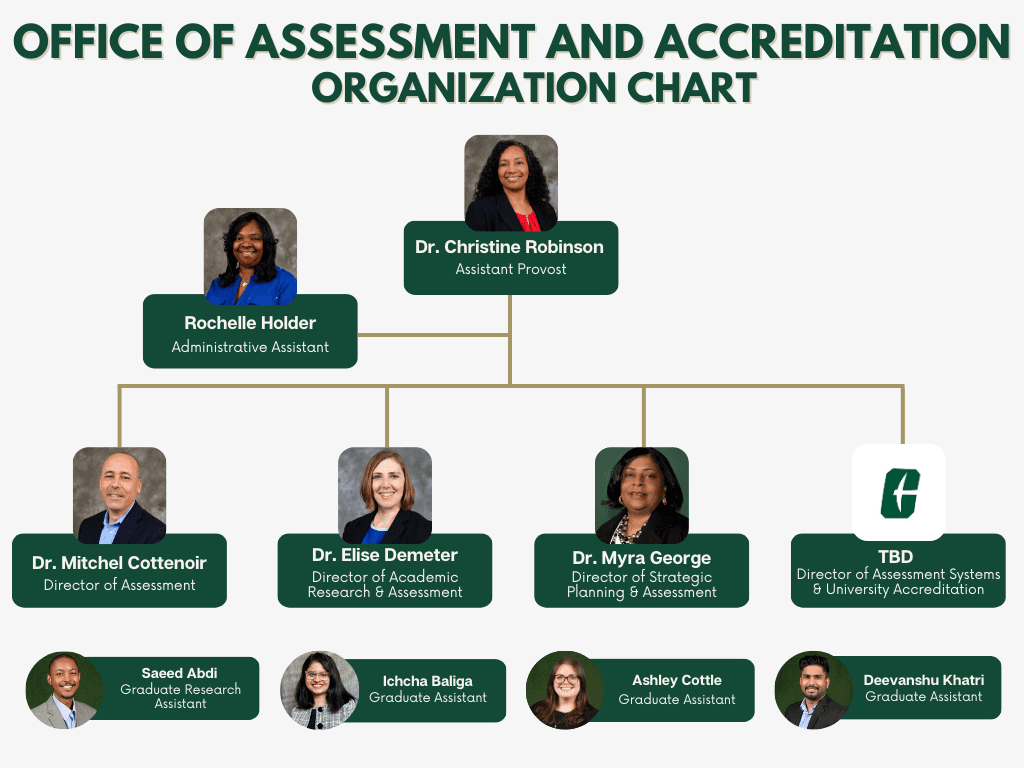 Assistant Provost: Responsible for providing leadership, direction, and general supervision for these essential roles: researching and evaluating the effectiveness of practices, narrating students' learning experiences to internal and external stakeholders, building assessment capacity in faculty and staff, effectively communicating with a wide range of stakeholders, and building a sustainable culture of inquiry and assessment.
Director of Assessment: Provides division-wide leadership and direction in the development and assessment of student learning outcomes for academic and academic support units and oversees compliance with the SACSCOC institutional effectiveness educational program standard.
Director of Academic Research and Assessment: Provides division-wide research, analytic, and evaluation support for assessment, planning, marketing, budgeting efforts and other Division of Academic Affairs initiatives and supports the academic community with the interpretation of data and findings to enhance decision making.
​Director of Strategic Planning and Assessment: Provides leadership for university strategic planning and academic program reviews, and supports faculty and staff in utilizing assessment findings from these efforts for continuous improvement.
Director of University Accreditation and Assessment Systems Management: Provides university-wide support to faculty and staff in documenting plans, assessments, and accreditation evidence in the assessment management system and supports university compliance efforts for successful submissions of SACSCOC fifth-year and decennial reports.