NILOA Transparency Framework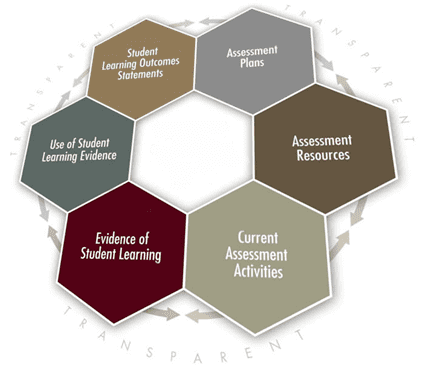 Used with the permission of the National Institute for Learning Outcomes Assessment. (2011). Transparency Framework. Urbana, IL: University of Illinois and Indiana University, National Institute for Learning Outcomes Assessment (NILOA). Retrieved from: http://www.learningoutcomeassessment.org/TransparencyFrameworkIntro.htm
The University of North Carolina at Charlotte, as a member institution of the Voluntary System of Accountability has adopted the National Institute of Learning Outcomes Assessment (NILOA) Transparency Framework as a model for communicating relevant learning outcomes assessment information to various stakeholders. The Transparency Framework was designed for institutions as a template or guide to make assessment more visible and to "rethink how they are communicating what they consider to be relevant information." At UNC Charlotte, the framework is a showcase for telling our stories of students' successes.

Student Learning Outcomes Statements: All degree programs, certificates, and stand-alone minors have clearly articulated measurable, action-oriented, and realistic statements of knowledge, skills, attitudes, and habits of mind that students should be able to do at the completion of their programs. Click on the following link for a more detailed look at Institutional level, undergraduate or graduate student learning outcomes statements.

Assessment Plans: All academic programs submit in Compliance Assist – an accountability management software – annual plans for gathering evidence of student learning. These plans outline what, when and how the outcomes will be assessed. The plans are reviewed and feedback and recommendations are provided to the various programs. Click here for a sample of the Student Learning Outcomes Assessment Annual Plans and Reports

Assessment Resources: The Office of Assessment and Accreditation provides workshops, trainings, consultations, and information to assist faculty and staff with entering data and reporting functions in Compliance Assist, developing effective assessment plans, and using evidence to improve student learning and teaching. The following is a sample of workshop offerings.
Thinking Strategically: Using Measures, Metrics and Data to Support Strategic Goals
Aligning course objectives, instructional strategies, & assessments to enhance student learning & motivation
Using Assessment Data to Improve Student Learning
Creating and Using Curriculum Maps
Creating Analytic Rubrics
Compliance Assist Workshop – Entering Student Learning Outcomes Data and Annual Reporting
Compliance Assist Workshop – Reporting Functions
Open Lab – Entering SLOs and Annual Reporting Data
For a more detailed look and description of workshops click on Assessment Academy.
Assessment is a collaborative and an ongoing process. Besides the annual program SLO assessment, the office has partnered with the The Belk College of Business, The Cato College of Education and the First-Year Writing Program to evidence and tell their stories of student learning and success. The Belk College of Business to do a triangulation study where both direct measures (ETS HEIghten and embedded authentic performance based assessments) and indirect measures (NSSE, Graduating Senior Survey) are used to help tell a story of student learning and success. Additionally, The Cato College of Education organized a Charrette; the First-year writing program is conducting a longitudinal study of students' transfer of writing strategies; and the Graduate Student Needs Survey which is used to collect master's and doctoral level students satisfaction and experiences in their programs are some of the current assessment activities at the institutional and colleges levels.

Each program submits an annual assessment plan and report that evidences the students' attainment of the learning outcomes. Click here for a sample of student learning evidence in the College of Liberal Arts and Sciences. Click here for sample of student learning evidence in the Cato College of Education. Click here for a sample of student learning evidence in the William States Lee College of Engineering. Click here for a sample of student learning evidence in the College of Health and Human Services.

Each program will discuss the evidence of student learning and use it to make changes to the instruments, measures, assignments, prompts; practices that may influence the improvement of teaching and learning; inform decision-making; and to decide on professional development. Click here for a sample of use of student learning evidence in the College of Liberal Arts and Sciences.Click here for sample of use of student learning evidence in the Cato College of Education. Click here for a sample of student learning evidence in the William States Lee College of Engineering. Click here for a sample of student learning evidence in the College of Health and Human Services